<!-ShowPage(index.html)->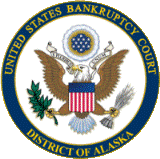 Welcome to the U.S. Bankruptcy Court for the District of Alaska
<!-ShowPage(OperationNotice.htm)->
---
As of March 26, 2022, the United States Bankruptcy Court, District of Alaska, is live on NextGen CM/ECF 1.7.0.
All case information is available by logging in with a PACER account and password.
---
This is a restricted government website for official court business only. All activities of CM/ECF subscribers or users of this system for any purpose, and all access attempts, may be recorded and monitored by persons authorized by the federal judiciary for improper use, protection of system security, performance of maintenance and for appropriate management by the judiciary of its systems. By subscribing to CM/ECF, users expressly consent to system monitoring and to official access to data reviewed and created by them on the system. If evidence of unlawful activity is discovered, including unauthorized access attempts, it may be reported to law enforcement officials.
---
ANNOUNCEMENTS - Updated March 9, 2022
Notice of Pending Bankruptcy Form Changes, Effective March 28, 2022, and April 1, 2022 - Posted March 9, 2022

Notice of April 1, 2022 Discontinued Use of WordPerfect Forms and Orders - Posted February 1, 2022

Filing Exhibits For Evidentiary Hearings - Posted May 5, 2020

This system will now automatically reject improperly formatted PDFs. You can click the link below for a guide on proper PDF creation, and conditions which may cause a document to be rejected.
https://pacer.uscourts.gov/file-case/developer-resources/cmecf-release-notes/pdf-related-functionality-public-filers-nextgen

Some users have had their one free look get used by their antivirus software. If this has affected you, after this upgrade you can opt-in to have an additional confirmation page added to your account to prevent your one free look from being used by this type of antivirus activity. More information on how to enable this can be found at the link below.
https://pacer.uscourts.gov/file-case/developer-resources/cmecf-release-notes/nextgen-release-16-1


View Messages and General Orders by visiting our public website: https://www.akb.uscourts.gov.



---
2September2021
Court Information