<!-ShowPage(index.html)->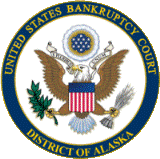 Welcome to the U.S. Bankruptcy Court for the District of Alaska
<!-ShowPage(OperationNotice.htm)->
---
THE NEXT GENERATION OF CM/ECF IS COMING AUGUST 17, 2015!
ALL filers must take steps to prepare for NextGen CM/ECF.
If you have an Attorney Filing Account, Click Here.
If you have a Limited Filer Account, which are provided to:
(Creditors, Financial Management Providers, and Auditors)
NOTE: If you are requesting a filing login prior to August 14, 2015, Click Here and follow the instructions provided.
---
3June2013
Court Information