<!-ShowPage(index.html)->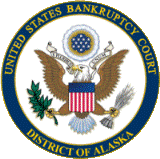 Welcome to the U.S. Bankruptcy Court for the District of Alaska
<!-ShowPage(OperationNotice.htm)->
---
As of June 18, 2018, the United States Bankruptcy Court, District of Alaska, is live on NextGen CM/ECF 1.2.0.4.
All case information is available by logging in with a PACER account and password.
ANNOUNCEMENT
NOTICE OF PROPOSED AMENDMENTS TO THE ALASKA LOCAL BANKRUPTCY RULES AND DEADLINE TO FILE COMMENTS THEREON
***All comments must be received by November 15, 2018***
Go to: http://www.akb.uscourts.gov to see the full notice and the proposed amendments under "News & Announcements".
---
5April2017
Court Information