<!-ShowPage(index.html)->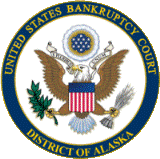 Welcome to the U.S. Bankruptcy Court for the District of Alaska
<!-ShowPage(OperationNotice.htm)->
---
As of December 14, 2018, the United States Bankruptcy Court, District of Alaska, is live on NextGen CM/ECF 1.2.0.5.
All case information is available by logging in with a PACER account and password.
General Order 2018-1 - Court Closure December 24-25, 2018
IT IS ORDERED THAT:

The Court will be closed on December 24-25, 2018. Any deadlines falling on December 24-25, 2018, shall be extended until Wednesday, December 26, 2018. All ECF filers will still be able to file electronically despite the court's closure on these two days.
---
5April2017
Court Information